Airport transfers before and after climbing Kilimanjaro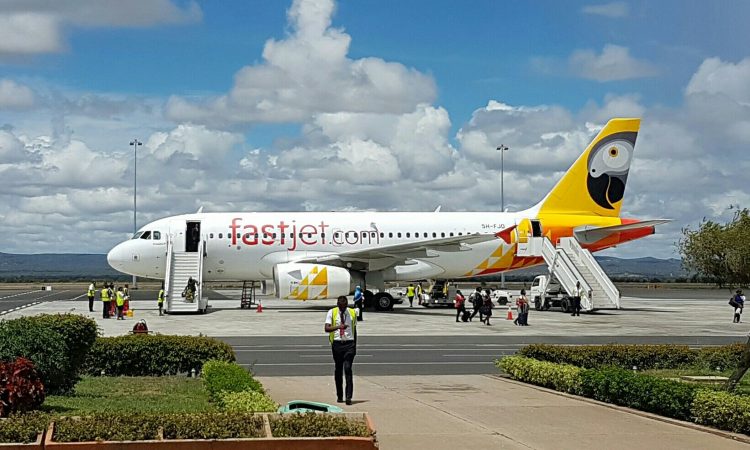 We provide airport transfers from Kilimanjaro International Airport to your hotel. You will be met as you come out of Arrivals by a Mount Kilimanjaro Routes representative who will be holding a whiteboard with your name on it.
You will be transferred to your hotel and advised of the time for your pre-trek briefing that evening, where your guide will carry out a gear check and also review the route with you.
We will also drop you back at Kilimanjaro International Airport in time for you to catch your flight home or to another destination.
The easiest way to get to Mount Kilimanjaro is by landing at the nearest airport to the mountain itself. The nearest international airport to Mount Kilimanjaro is the Kilimanjaro International Airport (KIA).
Getting to Kilimanjaro International Airport
If you are coming to Tanzania to climb Mount Kilimanjaro, the best airport to fly to is Kilimanjaro international airport (code JRO) whereby we can arrange a private transfer from the Kilimanjaro airport to your hotel or lodge near Mount Kilimanjaro preferably Moshi Town and back at an affordable, additional cost.
If in case you cannot find flights from your home destination to Kilimanjaro International Airport, you can also opt to book flights to other airports near Tanzania like the Jomo Kenyatta International Airport in Nairobi or other airports within Tanzania like the Julius Nyerere International Airport in Dar es Salaam.
From there you may need to join a connecting flight to Kilimanjaro International Airport or Arusha Airport or you can opt for a bus transfer or shuttle services that come from the airport to Moshi or Arusha town where your climb will start from.
International Flights
Climbing Mount Kilimanjaro starts from either Moshi or Arusha town, which are both roughly 45 km from Kilimanjaro International Airport as the airport is located in between these two major touristic towns.
The following airlines fly directly to Kilimanjaro airport:
KLM

Direct flights from Amsterdam to Kilimanjaro airport

Condor

Direct flights from Frankfurt to Kilimanjaro airport

Turkish Airlines

Direct flights from Istanbul to Kilimanjaro airport

Kenya Airways

Direct flights from Nairobi to Kilimanjaro airport

Precision Air

Direct flights from Nairobi to Kilimanjaro airport

Qatar Airlines

Direct flights from Doha to Kilimanjaro airport

Ethiopian Airlines

Direct flights from Addis Adaba to Kilimanjaro airport

RwandAir

Direct flights from Kigali to Kilimanjaro airport
Just in case you do not find direct flights to Kilimanjaro International Airport you can fly to the  Jomo Kenyatta International Airport in Nairobi or Julius Nyerere International Airport in Dar es Salaam where there are direct flight daily flying into Kilimanjaro International Airport.
Despite being located in two different countries, Kilimanjaro is much closer to Nairobi than it is from Dar es Salaam. The main airport at the capital city of Kenya, Nairobi, which is the Jomo Kenyatta International Airport receives a lot more air traffic than Kilimanjaro Airport since it has many options and more competitive prices on flights.
Domestic flights within Tanzania
The following airlines offer domestic flights to smaller and major airports and airstrips within Tanzania:
Precision Air
Fly540
Regional Air
Fastjet
Zan Air
Coastal Aviation
Air Excel
Bus/ Shuttle  transfers
For an additional charge we can help you arrange private transportation to your hotel in Moshi from any pick-up and entry point of your choice or shuttle bus transfers to Moshi or Arusha from Nairobi, as well as drop off to the airport of your choice on the day of departing.
As for shuttle services even though the bus departs from Nairobi's Parkside Hotel, we can arrange to pick up for our clients from certain hotels in the Nairobi city centre or at the Nairobi airport free of charge. In Arusha or Moshi town, pick up or drop off can be arranged to most hotels around town.
Bus schedule (subject to change)
Routing
Schedule
Departing
Arriving
Nairobi to Arusha
Daily
08:00
14:00
Nairobi to Arusha
Daily
14:00
18:30
Nairobi to Moshi
Daily
08:00
15:30
Moshi to Nairobi
Daily
06:00
14:00
Arusha to Nairobi
Daily
08:00
14:00
Moshi to Nairobi
Daily
10:30
18:30
Arusha to Nairobi
Daily
14:00
18:30
Private transfers
We can to arrange private transfers to Arusha or Moshi from Nairobi, Dar Es Salaam or Mombasa and vice versa, at extra cost but this should be communicated earlier before commencing your trip.