Full moon Kilimanjaro climbs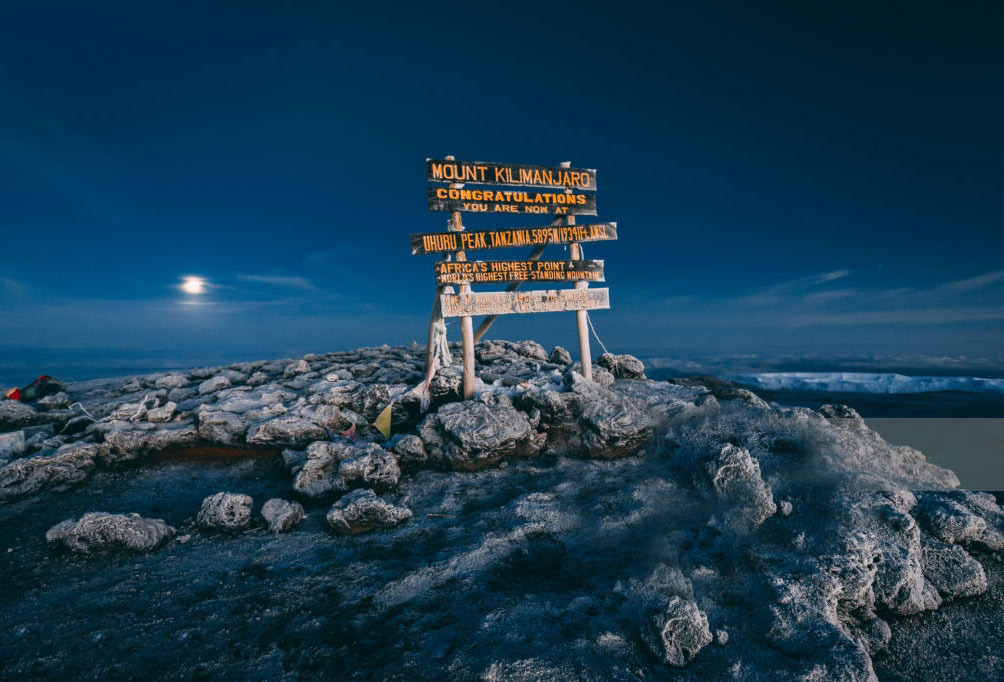 Don't miss the experience of a lifetime, summiting Kilimanjaro during a full moon, seeing the glaciers glittering in the moonlight… simply stunning!
Many climbers choose the full moon to coincide with their Kilimanjaro climb as when there are clear skies the bright full moon gives them enhanced visibility. It is a very popular time to climb and gets booked up early, see below for full moon dates.
Kilimanjaro Full Moon Dates
| | | | | |
| --- | --- | --- | --- | --- |
| Months | 2020 | 2021 | 2022 | 2023 |
| JAN | 10 | 28 | 17 | 6 |
| FEB | 9 | 27 | 16 | 5 |
| MAR | 9 | 28 | 18 | 7 |
| APR | 8 | 27 | 16 | 5 |
| MAY | 7 | 26 | 15 | 5 |
| JUN | 5 | 24 | 14 | 3 |
| JUL | 5 | 24 | 13 | 3 |
| AUG | 3 | 22 | 11 | 1/30 |
| SEP | 2 | 21 | 10 | 29 |
| OCT | 1/31 | 20 | 9 | 28 |
| NOV | 30 | 19 | 8 | 27 |
| DEC | 30 | 19 | 7 | 26 |
New Moon Dates – Kilimanjaro under the stars
| | | | | |
| --- | --- | --- | --- | --- |
| Months | 2020 | 2021 | 2022 | 2023 |
| JAN | 25 | 13 | 13 | 21 |
| FEB | 23 | 11 | n/a | 20 |
| MAR | 24 | 13 | 2 | 21 |
| APR | 23 | 12 | 1/30 | 19 |
| MAY | 22 | 11 | 30 | 19 |
| JUN | 21 | 10 | 28 | 17 |
| JUL | 20 | 10 | 28 | 17 |
| AUG | 19 | 8 | 27 | 16 |
| SEP | 17 | 7 | 25 | 14 |
| OCT | 16 | 6 | 25 | 14 |
| NOV | 15 | 5 | 23 | 13 |
| DEC | 14 | 4 | 23 | 12 |