Recommended kit for your Kilimanjaro climb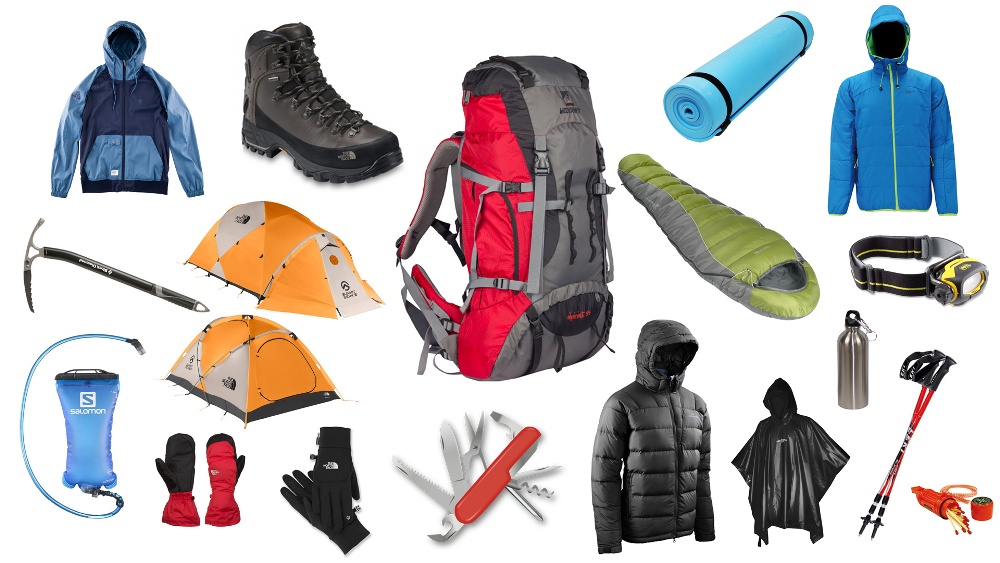 On Mount Kilimanjaro, it is always sensible to prepare for the worst, and hope for the best. You may encounter a variety of weather conditions throughout your climb, including rain, wind, snow, sleet and extreme heat. Layering is key to maintaining comfortable body temperature and this is central to our
Kilimanjaro kit list
recommendations.
You can download a full infographic of our kit list with links to the specific items of kit we use ourselves below. Also for when you are packing, there is a printable checklist of all the items you need.
GET YOUR BASIC EQUIPMENT FIRST
Sleeping bag: A bag rated to -10°c, often called a 4-season bag is one of the high quality sleeping bags
Insulated sleeping mat.
Trekking poles: Lightweight and collapsible.
NEXT LOOK AFTER YOUR HEAD
Warm hat: Wool or synthetic. It should be warm and thin enough to
fit underneath a rain jacket.
Neck gaiter: so many uses
Sun hat: A lightweight baseball cap or sun hat.
Sunglasses: A pair of dark-lensed sunglasses with side shields or full wrap-type sunglasses.
Headlamp
Extra batteries for your headlamp: Lithium batteries perform best in cold environments.
THEN KEEP YOUR HANDS WARM AND DRY
Lightweight gloves: One pair of fleece gloves.
Heavyweight insulated glove, mitten or over mitten: Wind/water-resistant, insulated gloves or mittens for protection against wind, snow and cold.
AND OF COURSE YOUR FEET
Mid-weight trekking boots: ideally Gore-Tex which is lighter than leather.
Trekking shoe: keep tired feet comfortable in camp.
2 pairs of outer socks and 2 pairs of liners: Either wool or synthetic. Liner socks are useful for reducing friction.
KIT OUT YOUR UPPER BODY
Light to medium weight base layer top: Long-sleeve wool or synthetic top. Zip-neck styles will allow for better temperature regulation.
Heavy fleece layer
Light insulating layer: A fleece or other insulation layer.
Hardshell jacket: A jacket made of rain/wind-proof material with an attached hood.
Insulated jacket with hood or "Primaloft" type extra insulating layer.
Non-cotton hiking shirt: Lightweight, synthetic shirt with either long or short sleeves is nice for July and August. Long sleeve is preferred for sun protection.
AND YOUR LEGS
Light to medium weight base layer bottoms: Light to medium weight wool or synthetic bottoms.
Climbing pant: Synthetic climbing pants offer a wide range of versatility.
Hardshell pant: A pant made of breathable rain and wind-proof material will be needed.
Lightweight trekking pants: A lightweight, synthetic pair of pants is a good option for the approach trek.
AND DON'T FORGET THE ODDS AND SODS
Sunscreen- High SPF
Lip screen: High SPF
Water bottles/platypus: Two x one-litre water bottles are required. Wide mouth bottles are ideal since their opening is less likely to freeze. Platypus or similar is great for the approach but may freeze on the summit night.
Dry bags.
Earplugs: useful if you have a snoring partner.
Baby wipes the best invention ever for on a mountain.
Mosquito repellent: only needed for Moshi/Arusha.
Travel wash.
Camera
Toothbrush
Toothpaste
Electric adapter- Tanzania uses three-pin square plugs.
Pee bottle- avoid midnight trips outside the tent.