Kilimanjaro Gear Packing List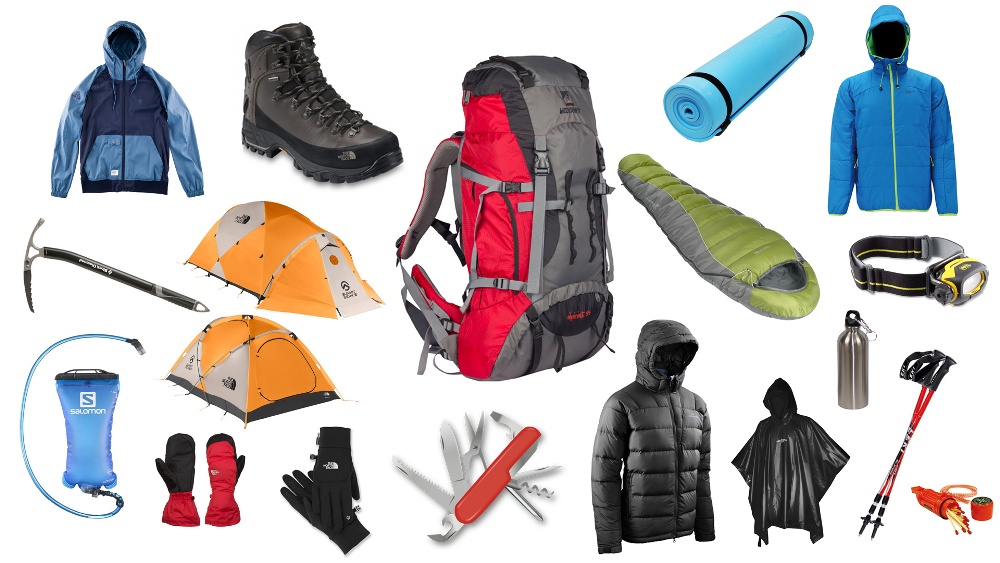 If you Google "Kilimanjaro equipment list", you will find differing lists that contain varying line items.  We know firsthand how confusing and frustrating this is.  We recommend using our list below.  It is based on our experience on Kilimanjaro.  We have noted items that are nice to have versus what is critical so that when you pack, you can be assured of packing 100% of the essentials.  Discovering 5 days and 15,000 feet into your climb that you forgot something is a nightmare that none of our clients has to experience.  To avoid this dilemma we layout the equipment list in an easy to understand format and highlight why a piece of equipment is on the list and what the critically of it is.
Clothing for Kilimanjaro
When it comes to clothing for Mount Kilimanjaro, you will see a recurring theme.  To maximize your comfort, it is recommending that all clothes are made of fabric with moisture-wicking, quick-dry, and breathable properties.  The clothing you pack will make up a layering system and it is important that every layer is moisture-wicking so that as sweat is drawn from your body, it is easily transferred from layer to layer until it reaches the outside and has a chance to dry.  It is also important that the material is quick-dry.  Once something gets wet at cold altitudes, it is difficult to dry.  Using quick-dry materials is your best chance to improve your comfort if you experience rain or are a heavy sweater.  Here is our recommended list of clothing from the inside out:
Underwear Briefs x 3
Sports Bras x 2 (for the ladies)
Long Underwear/Light-Weight Base Layer Bottoms x 1
Light-Weight Base Layer Top x 1
T-Shirt x 1
Long-Sleeve T-Shirt x 2
Hiking Pants x 2 (zip-off to shorts optional, but recommended for 1 pair)
Poncho or Lightweight Rain Suit x 1
Mid-Weight Base Layer Top x 1
Fleece OR Mid-Weight Base Layer Pants x 1
Fleece or Soft-Shell Jacket x 1
Synthetic or Down Insulated Jacket x 1 (must be able to fit under outer shell jacket)
Waterproof Outer-Shell Pants x 1(Recommended to have side-zipper vents)
Waterproof Outer-Shell Jacket with Hood x 1
Be sure to try on all of your layers prior to your trip to make sure your outer-shells will fit over everything!
Hand, Foot, and Headwear
Protecting your extremities from the elements is the most difficult because they are the most exposed part of your body.  The rule of moisture-wicking and quick-dry also apply to your socks, gloves, and headwear.  Here are our recommendations to keep your toes, fingers, and nose nice and toasty on summit night:
Glove-Liners for added warmth x 1
Waterproof Gloves or Mittens x 1
Waterproof Hiking Boots x 1 (Broken-in!)
Spare Boot Laces x 1
Thin Sock Liners x 3
Thick, Wool or Synthetic  Socks x 3
Gaiters x 1 (optional)
Brimmed Hat x 1
Knit Hat/Stocking Cap x 1 (recommended to cover ears)
Balaclava x 1
Bandana x 1 (optional)
Kilimanjaro Equipment and Accessories
Now that you have your clothing gear out of the way, it's time to get your personal camping gear and the gear you will carry with your daypack (including the daypack itself).  The options available to you are endless.  Focus on getting gear that is high-quality and can take the rigours of a Kilimanjaro trek.  You have limited space and weight that you can bring with you, so be sure you purchase items that are no larger than you need and preferably made from lightweight materials.
Sunglasses or Goggles x 1 (block sun AND wind)
Headlamp x 1 (with extra batteries)
Daypack x 1 (recommended to accommodate bladder)
Waterproof Backpack Cover x 1 (Might come with your backpack)
Trekking Poles x 1 set (telescopic for easy packing)
Water Bladder x 1 (with insulated tube and mouthpiece)
32oz Nalgene Water Bottle x 1 (x3 if you do not use water bladder)
Lightweight, Quick-dry Towel x 1
32oz Pee Bottle x 1 (For Nighttime)
Pee Funnel x 1 (for the ladies)
Sleeping Bag x 1  (four seasons rating)
Sleeping Bag Liner x 1 (added warmth, optional)
Sleeping Pad x 1 (Closed-cell foam or self-inflating)
Stuff Sacks or Plastic Bags to keep gear dry (various sizes)
Duffel Bag x 1 (Recommend Waterproof)
Miscellaneous
Here are the extras.  They may not be required to reach the top, but they can certainly enhance your experience.  Just remember not to overdo it.  If you have too much weight, you'll be required to hire an additional porter to help with the over-sized load.
Camera/Camcorder
Extra-Batteries for Cameras
Cellphone in cause you want to Tweet your progress or "Check-in" on FB.
Small notebook and pencil to log your trip
Personal Toiletries (Deodorant, Toothbrush, Toothpaste, etc.)
Prescription Medicines
Lip Balm
Sunscreen
Hand Sanitizer
Wet-wipes and Body-Wipes
Small First-Aid Kit (band-aids, ace wrap, alcohol pads, etc)
Toilet Paper
High-Calorie snacks
Flavour tablets for water
Plastic baggies for trash
Documentation
Most people don't think to include the following items in their package list.  Don't forget to add them to yours or you won't make it very far (not even out of your city).
Passport
Visa (Will be in your passport if you obtain prior to departure)
Printed Airline Itinerary
Immunization Papers
Documentation for Insurance
Trip Receipt
Small-denomination US dollars or Euros
TZ Shillings (optional)