Cost for climbing Mount Kilimanjaro
How much does it cost to climb Mount Kilimanjaro?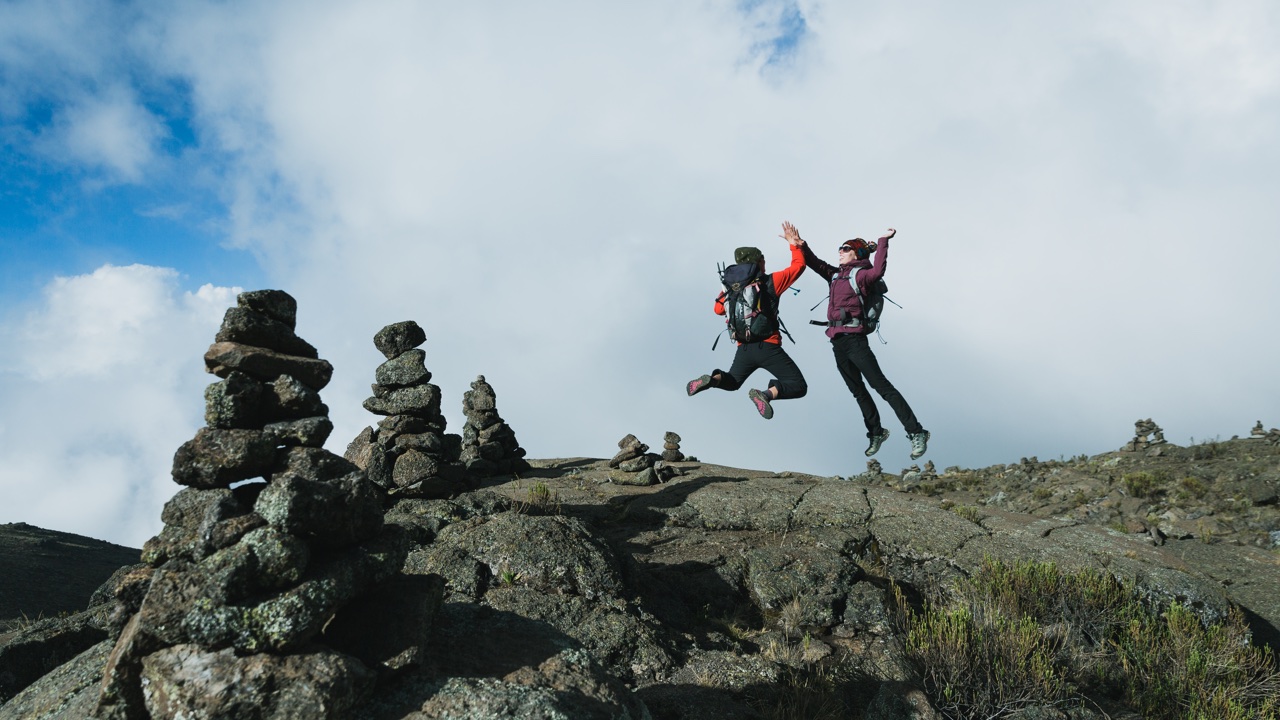 When budgeting for a Kilimanjaro Climb, there are 4 "big ticket" items that factor into the overall cost.  Those 4 items are Flights, Gear, Tips, and the Climb itself.  Some consider it a shame to travel all the way to Tanzania and not include a Serengeti Safari.  If you are one of those, make it 5 items.  It is next to impossible to provide estimates for Flights and Gear because we don't know where you are coming from and what gear you might already have.  However, we provide you with the tools you need below to quickly get an accurate estimate on your own.  As for the Tips, Kili Climb, and Safari Extensions, you should have a clear idea of the cost by the time you are finished perusing our site.  You should not be surprised by any "new" costs at the time of booking or any time after.  If you have any questions at all, please use our Request A Kilimanjaro Climb Quote Form and we will give you a detailed accurate quote that is guaranteed not to change.  No surprises down the road!
Flights to Kilimanjaro
Our trekkers come from all over the globe to climb Kilimanjaro, so we aren't able to provide detailed suggestions for everyone here on the website.  If you would like suggestions for travel into Tanzania, use the Contact Form to let us know what city you are coming from and we'll do our best to provide you with the options and our recommendation.
Alternatively, you can use the following websites to search for flights from your city.
From North America: Search for flights going into Kilimanjaro International Airport (JRO) using Delta.com.  Delta has daily flights from several US cities that go through Amsterdam (AMS).  This is the easiest flight route available to you.
From Europe:  Search for direct flights on KLM.com from Amsterdam (AMS) to Kilimanjaro International Airport (JRO).
From Asia and Australia:  There are so many options for reaching JRO, but most will require 2+ stops or multiple carriers, making it a very long and tiring journey.  You will most likely have to stop in Bangkok or Dubai before having a final layover in Nairobi, Addis Ababa, or Dar Es Salaam.  Using a service like Expedia.com or Skyscanner.com may be your easiest way to find the itinerary that fits your schedule and price range.
Trek
The cost of your trek depends on 3 things: The route you choose to climb, the number of days you are on the mountain, and the size of your party (if doing a Private Climb).
Group Climbs are a set price regardless of how few climbers sign up.  The current prices for 2014 and 2015 are in the range of $1895 -$2155 per person.  Take a look at our 2021 & 2022 Kilimanjaro Group Climb Schedule to see the availability and exact price of your preferred route.
Private Climb prices vary by your route and party size.  The average price of a Mount Kilimanjaro Routes private climb is right around $2000, but can be as low as $1500 for a larger party on Marangu or as much as $2855 for an individual climb on a longer route.  Visit our Private Kilimanjaro Climb Prices page to see exactly what you can expect to pay for your private climb based on your unique scenario.
Tipping
While Mount Kilimanjaro Routes secures only the best guides and porters, it is important to note that much of their income comes from tips and the generosity of our clients.  The average salary for a Tanzanian citizen is extremely low and as a result, the tips and gifts are a core part of their yearly salary.  Current tipping guidelines for porters and guides can be found in the FAQs, but many of our clients give more after seeing how much they helped them during the climb.  For budgeting purposes, you should calculate approximately 10-15% of your climb cost to be put toward tips.
In addition to the tip structure, it is customary for the climbing team guides and key team players to have a "gift" exchange at the hotel after the trip where the clients donate any equipment that they will not be used after the climb.  This allows the mountain staff to obtain better equipment than they can afford on their own.  If there is something you wish to give to a particular staff member, you should be sure to give it to him directly.  Otherwise, the gifts will be given to the head guide and he will distribute it his team members based on needs.
Kilimanjaro Gear
Depending on how much you already have, acquiring the gear required to climb Kilimanjaro can put a small dent in your wallet as well.  We have a full Kilimanjaro gear list including suggestions/recommendations along with rough prices.  You can download a pdf version of our Kilimanjaro gear checklist, print it off, and take it with you when you go shopping.
Tanzania Safari
Adding a pre-climb safari is highly recommended based upon the value of the extra acclimatization time and is very affordable and a great value for your money.  Due to the unique nature of safaris and how people want to mix and match the various parks, we only offer private safari's and the prices are based upon the number in your party and the number of days you want to be in the wild.  Prices range from $200 to $2000 for a party of 4 or more persons.  Check out our full list of Safari Itineraries and Prices to find the perfect Serengeti Safari Add-on.
Kilimanjaro Climb Prices
Travelling alone and want to join a group climb?  The benefits of a Kilimanjaro group climb are simple:
Enjoy climbing with the company of others from all over the globe.
Save money with the group discount.
We have several groups climbs departing each week from various routes.  Group climb sizes vary but are limited to 12 trekkers.  We keep the groups small to enhance your experience on Kilimanjaro and to ensure all climbers receive the attention they deserve from our staff.
Take a look at our group climb schedules to see our full list of climbs along with their prices.  Dates have been selected to maximize your safety and increase your chances of success in reaching Uhuru Peak!  The schedules also note which climbs are scheduled to summit on or near the forecasted full moons.
Looking for more privacy or just want some alone time?  Mount Kilimanjaro Routes specializes in creating Private Climb packages tailored to your needs.  Benefits of a private Kilimanjaro climb:
Begin your climb any day of the year!
Enjoy the privacy of climbing with family or friends.
You decide your route and length of your trek.
.
Check out our Private Climbs page to see the price for each route.
Mount Kilimanjaro Routes believes that our clients should not get any surprises, especially when it comes to your trip price.  Click to see exactly what is and is not included in our Kilimanjaro climb prices.