Whats included in your climb?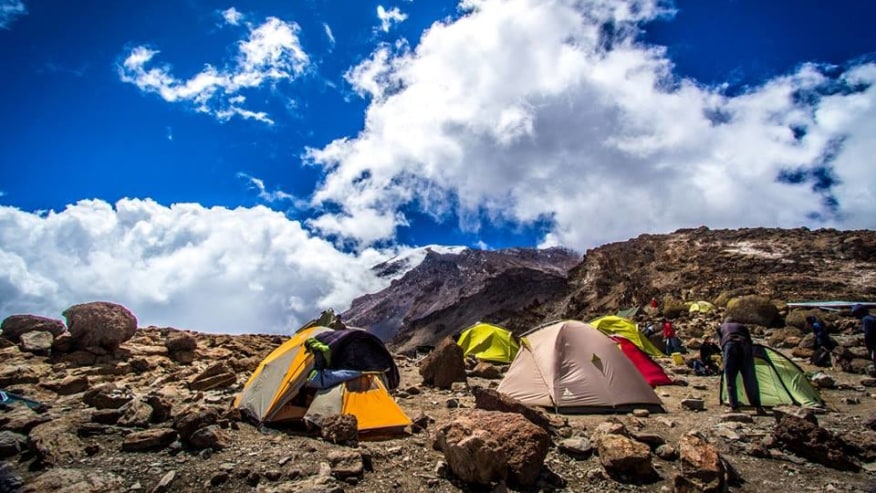 You get more with Mount Kilimanjaro Routes!  Climb prices found on this site include the following in the list.  Items with an asterisk are not typically included in our competitors' rates, but rest assured you will incur no additional cost for these when you book with Mount Kilimanjaro Routes.
Included in your price is pretty much everything except items of a personal nature. The only extras are the evening meal at the hotel before and after the climb and tips for your crew.
Unless agreed otherwise, this is what is and what is not included in our price:
Safe

Qualified guides that have been carefully selected and trained by us
Minimum of 1 guide for every 3 clients
National Park Fees and Rescue Service Prepaid
Discounts on your climbing insurance with Dogtag
Discounts on your vaccinations with Nomad
First Aid Kit provided on every climb

Healthy

3 litres of boiled water every day
Lashings of healthy tasty food

Comfortable

Private airport transfers to and from hotel
Good standard hotel included as a standard option
Large 3 man MSR tents for every two climbers
Table and chairs provided on all climbs
Mess tent on all climbs

Straight forward-the only things we don't include

Airfares and departure taxes
Personal gear
Tips for guides, porters and cook
Entry visa for Tanzania
Vaccinations
Travel insurance
Dinner in the hotels before and after the climb

And responsible

A member of KPAP which is working to prevent porter exploitation
Fully insured
A supporter of the Moshi charity Amani that cares for orphans
Not included in the Kilimanjaro tour price:
Airfares and departure taxes
Items of a personal nature
Tips for guides, porters and cook
Entry visa for Tanzania (US$50 per passport holder for most nationalities / US $ 100 per visa for USA passport holders)
Health requirements (Yellow Fever -compulsory, Meningitis & Hepatitis A & B, Rabies optional but recommended)
Personal Travel insurance (must include trekking above 4000m)
Personal hiking/trekking gear
Snacks, personal medicine and water purifying tablets
Meals & drinks not specified and snacks
Costs for optional Kilimanjaro services:
If you join a group climb but wish to have a private hotel room and tent, per trip $120 Extra porter, to carry your day pack or for excess gear, per day $15
Extra hotel night, check-in 11 AM, check out 10 AM, per room $75
Bottled oxygen, strictly for rescue/emergency use only, per trip $150
Gamow bag, per trip $150
Synthetic sleeping bag rental, rated to 0F, per trip $40
Trekking poles rental per trip $12
Gaiters, per trip $7