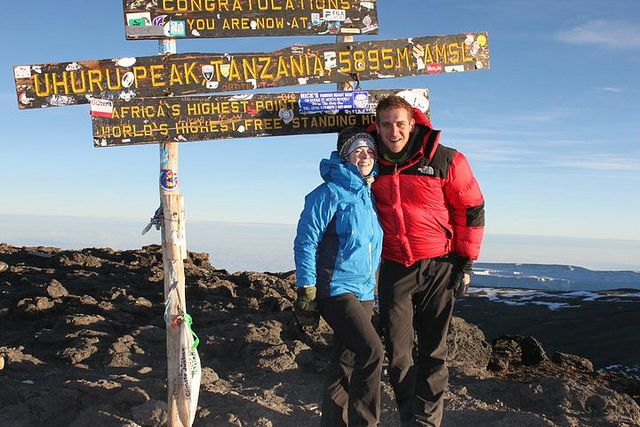 Honeymooners follow the celebrities up Kilimanjaro for the ultimate honeymoon adventure.
The iconic image of snow-capped Kilimanjaro has long been a powerful draw for adventure seekers but summiting Mount Kilimanjaro has increasingly become the ultimate honeymoon adventure.
Not content with the idea of spending two weeks being pampered, lying on a beach in the Caribbean, more and more couples are choosing to spend the first nights of their married life huddled together in a tiny tent with two thick sleeping bags making the best celibacy device known to man.  And it is not just experienced mountaineers who are making this choice: of the five couples who have summited with Mount Kilimanjaro Routes this year only one was regular mountain walkers and the others had done nothing more challenging than walking in England.
So why the rush of honeymooners who have never climbed a mountain before suddenly deciding they have to summit Kilimanjaro as the first thing they do? It seems that Cheryl Cole led a stream of celebrities lining up to climb the mountain have not only raised awareness of what a stunning challenge the mountain represents but also its relative accessibility. Of the world's 7 highest summits in each continent, only Kilimanjaro can be climbed by people whose only qualification is good fitness and a high level of stamina and determination.  And crucially, unlike the month-long assaults needed on most of the other summits Kilimanjaro is regularly climbed sensibly in a week. Get yourself fairly fit, perhaps practise hiking up Scafell Pike and Snowdon and the next stop is the roof of Africa. And what better way to get in perfect shape to slip into your wedding dress than to train for this challenge in the months before the big day.
Once you have summited the cream on the cake of this mini-adventure is that you have the world's greatest safari park and some the most idyllic beaches right on your doorstep. The Serengeti and Ngorongoro Crater safari parks are only a few hours drive away and a four-day trip can take in all of the highlights of Southern Tanzania with romantic evenings in the most wonderful lodges.  And after that, it is just a short hop to the idyllic beaches of Zanzibar,  a perfect place to let tired legs recover in the sun and make up for those nights in a tent. Nearly all of our Kilimanjaro clients on honeymoon pack both a short safari, visiting some of Tanzania's best safari parks, and 3 days on Zanzibar into a conventional two-week honeymoon break and with costs of a climb, safari and beach package starting from £2450 it really is very affordable. There cannot be a more complete honeymoon for an adventurous couple who really want to have created a magical memory